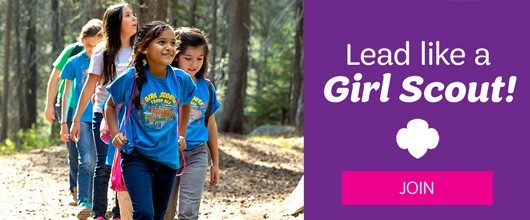 Únete
En Girl Scouts, las niñas siempre están contando hasta la próxima aventura que van a explorar juntas. Quizás sea algo artístico o tal vez sea realizar un experimento, salir afuera o ayudar a la comunidad.
Con nosotros, las posibilidades son infinitas. Juntas, descubriremos que eres capaz de hacer más de lo que siempre has imaginado.
¿Entonces, qué esperas para formar parte de Girl Scouts hoy?
When you unleash your inner G.I.R.L., you can accomplish anything!
At Girl Scouts, the next opportunity to stand up, speak up, and take the lead is never far away. With us, you'll discover the G.I.R.L. (Go-getter, Innovator, Risk-Taker, Leader)™ in you, and watch her shine, again and again.
Will you find a sustainable solution to a problem in your community? Will you explore the great outdoors? Build a robot? Learn to code? Conduct an experiment?
With us, the possibilities are truly endless. Discover all you can be and everything you can accomplish when you have the right tools and a safe space to shine—and work together to change the world. 
So what are you waiting for?
 
Need to know more so you can decide what's right for you? Check out all the different ways to take the lead at Girl Scouts. Or, see all the exciting possibilities Girl Scouts offers for girls of all ages and choose your adventure.